Samsung Gear S2
Despite the fact that the design of a smart watch is close to an ordinary wrist watch, in terms of its hardware and software, they are becoming more and more complex. "Smart watches" are rapidly turning from a little-needed smartphone companion into a more or less independent device. A vivid confirmation of this is the Samsung Gear S2. On the one hand, there is a round dial and a separate version with a classic design, on the other hand, a powerful processor, an optional 3G module, a proprietary OS and a completely new interface system.
Check and Buy From
Amazon
[asa2 tpl="Flat_box_horizontal"]B015JQ62RY[/asa2]
Specifications of Samsung Gear S2
Screen: Super AMOLED, 1.22 "(30.2 mm), 360×360, 302 ppi, capacitive
Operating system: Tizen OS with Circle UI interface
Compatibility: smartphone with Android version 4.4 and above, with more than 1.5 GB of RAM
Protection against water and dust: IP68 standard
Processor: Exynos 3250, 1 GHz dual-core
RAM: 512 MB
Built-in memory: 4 GB
Wireless interfaces: Bluetooth 4.1, Wi-Fi 802.11 b / g / n, NFC
Sensors: pulse, accelerometer, gyroscope, compass, altimeter, barometer
Battery: 250 mAh, non-removable, induction charging
Dimensions: 42.3×49.8×11.4 mm
Weight: 47 grams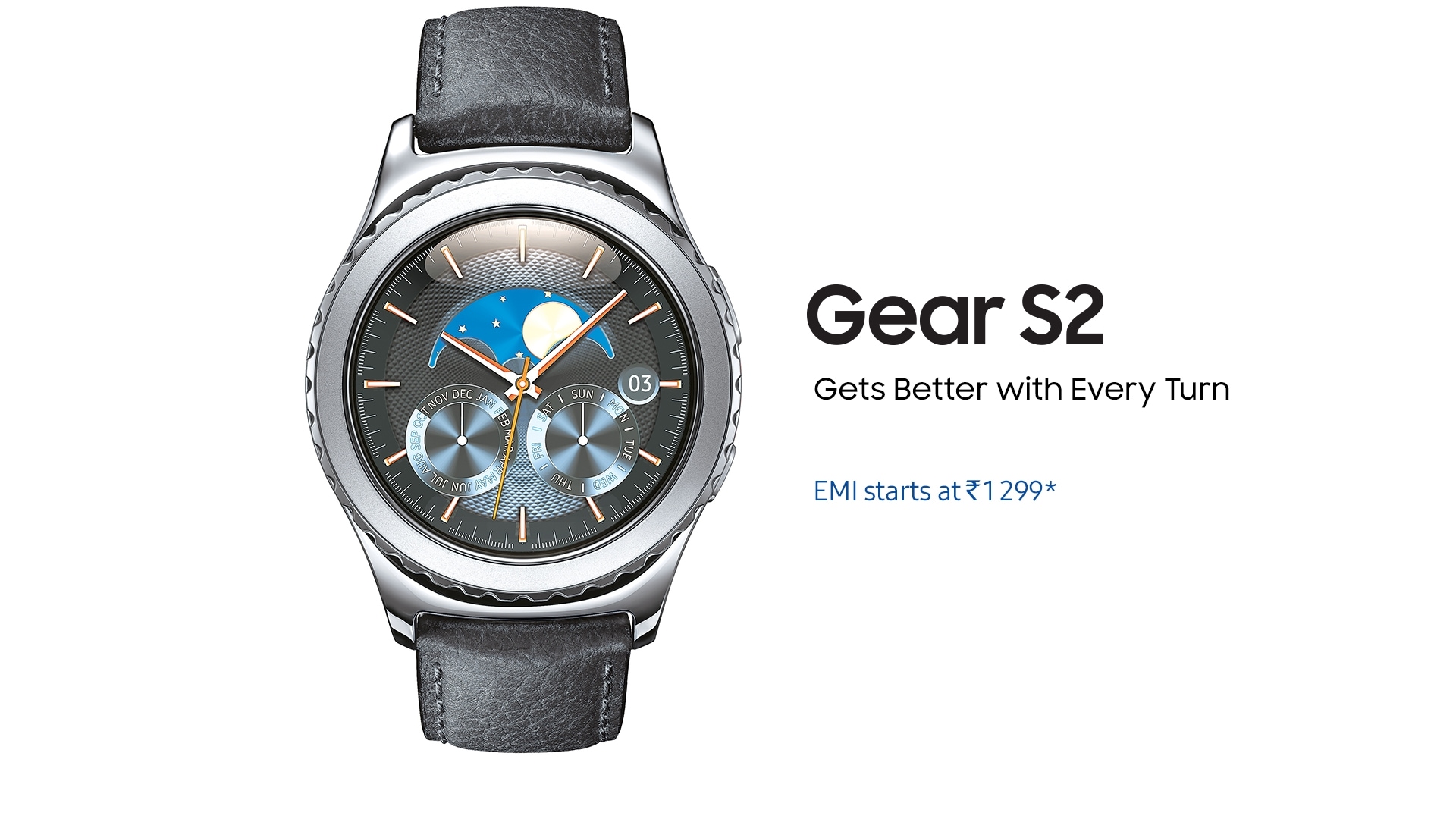 Screen
The Samsung Gear S2 is equipped with a 1.22 inch round display. The display resolution is 360×360 pixels, which can be compared to the HD resolution for a smartphone with a 4.7–5-inch diagonal: here the pixel density indicator is 302 ppi. The image on the screen is clear, and the pixels are distinguishable only if you look closely.
There are no complaints about the screen at all – it is excellent. Super AMOLED-matrix is ​​used here at an opportune moment. It not only applies to energy consumption, but also provides the screen with maximum viewing angles and a large margin of brightness. Under direct sunlight, the image on the screen almost does not tarnish.
Apparatus at work
Watch Gear S2 is based on a dual-core processor Exynos 3250 with a frequency of 1 GHz. The amount of RAM is 512 MB. Of the 4 GB of flash memory on the system and all the pre-installed applications accounted for exactly half, the rest of the space is available for user needs. Processor performance is more than enough for fast and smooth operation of the interface.
To pair your watch with your smartphone, you need to download the latest Samsung Gear app. To start working with the clock, nothing else is needed, but to download new applications from the store you will have to create an additional account for Samsung services.
Results
Samsung Gear S2 is a well-designed and executed device, familiarity with which left only positive impressions. Attractive and thoughtful design (bezel taxis literally and figuratively), durable case, excellent screen (black – so black!), Powerful processor, many third-party applications and customization capabilities (dials, straps) – these watches simply have nothing to say. . Claims for autonomy do not stand up to criticism, since 2-3 days is a good result for the opportunities provided. You can find fault, perhaps, to the price, but the topic of exchange rates is already greasy to holes.
Pros of Samsung gear S2:
durable metal housing;
high-quality screen;
IP68 dust and moisture protection;
long battery life;
built-in pulse measurement sensor;
Wi-Fi support;
the ability to listen to music from the clock;
simple interface Tizen OS;
Easy navigation with the bezel.